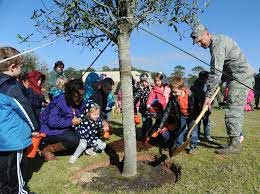 The next upcoming Arbor Day is celebrated/ observed on Friday April 27th, 2018. Arbor Day is observed in Spring but dates vary depending on the region's climate and planting season. It is a holiday to encourage people to plant and care for trees.
Celebration\ Observance
Events for Arbor Day might include communal tree planting, education on how to plant a tree, exhibits, fairs, music, and open garden centers. It's a time to get your hands dirty and learn more about caring for trees and bushes.
History
Arbor Day originated in Nebraska by J. Sterling Morton. Birdsey Northrop of Connecticut globalized it in 1883 on a trip to Japan. The American Forestry Association assigned Northrop to campaign for Arbor Day nationwide that same year.
Days till Arbor Day 2018
There are 69 days until the celebration/ observance of Arbor Day Friday April 27th, 2018.