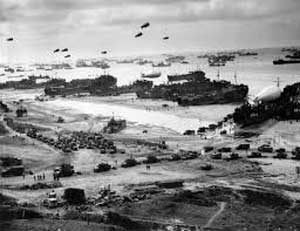 The next upcoming D-Day is on Thursday June 6th, 2019. D-Day is held annually on June 6 each year to help us remember the sacrifice our men and women made on June 6, 1944 in the battle fought on the Normandy coast of France during World War 2. The start of World War II began for the Americans with the attack on Pearl Harbor on December 7th, 1941.
Celebration\ Observance
People can visit war memorials and go to museum events to look at pictures, films and other material about that day. Some will travel to Normandy France and tour the battle sites and other historical sites.
History
On June 6, 1944 Operation Overlord the invasion of Normandy beaches in France began the assault on the European mainland for the Allied forces. This was the largest sea/land attack in the history of man up to this date and was pivotal in opening up of mainland Europe for the Allied forces to continue their attack all the way to Nazi Germany. Thousands of soldiers lost their lives in this invasion and D-Day was created to help us remember their sacrifices.