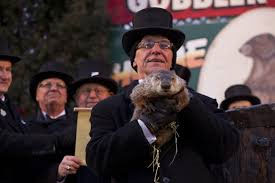 The next upcoming Groundhog Day is on Friday February 2nd, 2024.
Celebration\ Observance
This popular observance starts in Punxsutawney, Pennsylvania where Punxsutawney Phil, the official groundhog lives. Many visitors come to the festivities surrounding the groundhog's prediction.
History
Groundhog Day originated from German immigrants who settled in Pennsylvania. They had a tradition of watching a badger predict when to plant their crops. Since there were not many badgers in Pennsylvania, they used a groundhog. On February 2, if the groundhog sees his shadow it will run from it, predicting another 6 weeks of winter. If it does not see its shadow then Spring is closely coming.