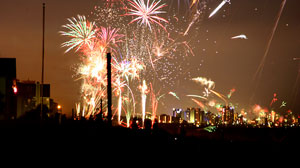 Independence Day in Indonesia is always celebrated on August 17th. It celebrates Indonesia's independence from the Netherlands in 1945.
Celebration\ Observance
People will celebrate by going to parades, athletic events and other patriotic events going on around the country. Traditional activities like climbing a pinang tree to reach for a prize or gift, eating crackers called krupuk or eat fruit hanging on a string are all part of celebrating Independence Day in Indonesia.
History
Indonesia was a Dutch colony for over 300 years until a revolution occurred on August 17, 1945. With further struggles to get its independence over the following years it was finally granted by Queen Juliana of the Netherlands.