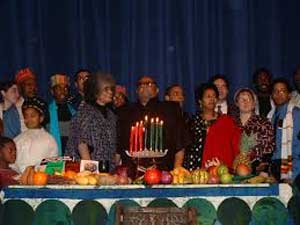 The next upcoming Kwanzaa is on Tuesday December 26th, 2023.
Celebration\ Observance
Celebrations include candles and libations ending with a feast and exchanging gifts. Kwanzaa ceremonies offer music and drumming performances using the colors of red, green, and black- colors that reflect Pan-African. African history discussions are held as well as exhibitions of African influenced art. Families made include Christmas and New Year celebrations with Kwanzaa by having a Christmas tree and a Kwanzaa candle in their home.
History
First celebrated in 1966-67, the holiday was created by Maulana Karenga giving those of African descent a time to celebrate their own cultural heritage; a means to reconnect with meditation and African traditions. Its roots are part of the black nationalist movement in the 1960's. It was first observed as anti-Christian or an alternative to Christmas early on but now both holidays are celebrated.