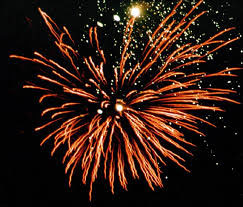 The next upcoming New Years Day is on Wednesday January 1st, 2020. It is a remembrance of the past year and anticipation of the upcoming year. It is a U.S. official holiday. Government offices, schools, and some business are closed to observe the holiday.
Celebration\ Observance
Celebration begins with fireworks at midnight on New Years Eve to bring in the start of the New Year, which big cities across the world from different time zones are televised. Most people have the day off work. Parties, parades, football games, and family time are also part of the festivities. In the United States, the Rose Parade in Pasadena, California is on January 1. This is a time where people will make New Year's resolutions which are improvements they wish to make for themselves. Common promises might include to lose weight, quit smoking, or exercise. The first baby born in the New Year is often celebrated in local newspapers and television.
History
The New Year celebration started as far back as 2000 BC from Mesopotamia (Iraq). Around 153 BC the Romans honored Janus, the pagan god, on this day. January is named after Janus. Western Europe adopted January 1 as New Year's Day before the Gregorian calendar was adopted in 1752.