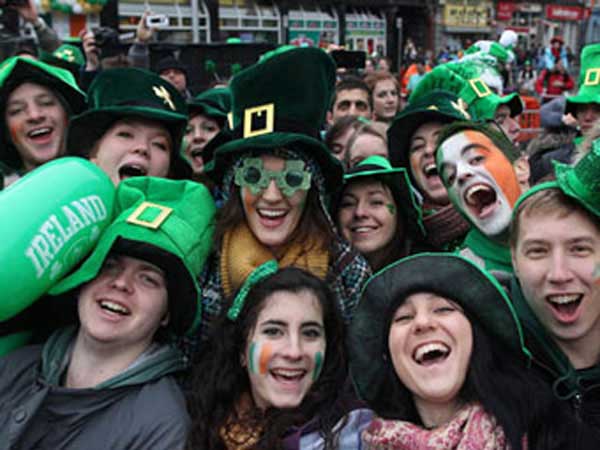 March 2030
Su
Mo
Tu
We
Th
Fr
Sa
1
2
3
4
5
6

Ash Wednesday
Wednesday March 6
6 years, 2 months, 27 days
or 2281 days

7
8
9
10

Daylight Saving Start
Sunday March 10
6 years, 3 months, 3 days
or 2285 days

11
12
13
14
15
16
17

St Patricks Day
Sunday March 17
6 years, 3 months, 10 days
or 2292 days

18
19
20
21
22
23
24
25
26
27
28
29
30
31
St Patrick's Day for the year 2030 is celebrated/ observed on Sunday, March 17th.
St. Patrick's Day also called Feast of St. Patrick, and St. Patty's day is observed on March 17 and marks the death date of Saint Patrick who is the patron saint of Ireland. In the early 17th century, it was made an official Christian feast day observed by the Church of Ireland, the Catholic Church, the Eastern Orthodox Church, and Lutheran Church. The day celebrates the arrival of Christianity in Ireland as well as the culture of Ireland, and commemorates the death of Saint Patrick.
Saint Patrick's Day around the world
In Europe, Ireland, England, Malta, Russia, Bosnia and Herzegovina, Scotland, and Switzerland all celebrate St. Patrick's Day. Other countries around the world celebrating the Day are Japan, Korea, Malaysia, Canada, Mexico, Argentina and the United States. Celebrations include recognition of the local Irish populations and a tribute to their culture and Christian religion.
Is St Patrick Irish
St Patrick came from Wales or Scotland where he was abducted at the age of 16 and brought to Northern Ireland as a slave. So no he was not Irish. He was then brought to Slemish Mountian in County Antrim to herd sheep and escaped. He ended up staying in Ireland preaching, baptizing and building churches until his death in the year 461 [1].
Days to St. Patrick's Day 2030
Sunday, March 17th is day number 76 of the 2030 calendar year with 6 years, 3 months, 10 days until St Patrick's Day 2030.
Further Reading:
More from Encyclopedia Britannica St. Patrick's Day
References:
1."9 St. Patrick's Day Facts" - Ireland, Ireland.com.
St Patrick's Day
Name(s):
St Patrick's Day, Feast of Saint Patrick, St Paddy's Day, Patrick's Day
Type:
Observance, Christian
When:
March 17th annually
Dates for St Patricks Day
| Holiday | Date | Days to Go |
| --- | --- | --- |
| St Patricks Day 2022 | Thursday, March 17, 2022 | -630 |
| St Patricks Day 2023 | Friday, March 17, 2023 | -265 |
| St Patricks Day 2024 | Sunday, March 17, 2024 | 101 |
| St Patricks Day 2025 | Monday, March 17, 2025 | 466 |
| St Patricks Day 2026 | Tuesday, March 17, 2026 | 831 |
| St Patricks Day 2027 | Wednesday, March 17, 2027 | 1196 |