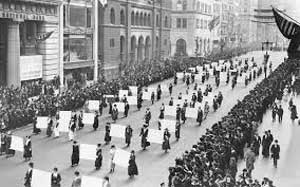 The next upcoming Women's Equality Day is on Monday August 26th, 2024.
Celebration\ Observance
Today, Women's Equality Day is more than the remembrance of the women's right to vote but of highlighting equal opportunities for education and employment in the United States and worldwide. Organizations such as Equality Now and Womankind Worldwide support educating against discrimination and stereotyping, violence against women, and suppression.
History
Women in the United States were granted the right to vote when the 19th Amendment to the United States Constitution became law on August 26, 1920. The amendment was first introduced as early as 1878. Since 1972, the president annually publishes a proclamation for Women's Equality Day.