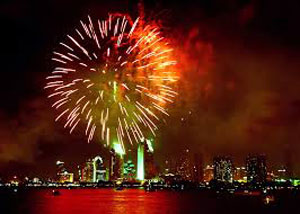 The next upcoming 4th of July is on Thursday July 4th, 2024.
Celebration\ Observance
4th of July is celebrated during the day with picnics, barbecues, games, sporting events, 5K runs, or spending time outdoors with family and community. In the evening, fireworks are on display with patriotic music in the community or on television. The American flag is displayed outside houses and buildings. Some people take extra time off and go out of town for a short vacation.
History
July 4, 1776 marks the day the Declaration of Independence was voted in secretly by Congress for independence from Great Britain. The first sign of how this day would be celebrated was on July 3, 1776 from John Adams to his wife, Abigail, stating "pomp and parade, with shows, games, sports, guns, bells, bonfires, and illuminations." In 1826, John Adams and Thomas Jefferson, both signers of the the Declaration of Independence, died on July 4- 50 years after the adoption.