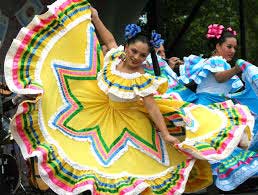 This year Cinco De Mayo is celebrated/ observed on Friday May 5th, 2017. Cinco de Mayo is observed on May 5. Mexican Americans celebrate this day to honor their ethnicity and remember the defeat of the French army from the Mexican army during the Battle of Puebla in Mexico in 1862.
Celebration\ Observance
Cinco de Mayo celebrates the Mexican culture, achievements and fortune of the Mexican Americans living in the United States. Festivities include Mexican dancing, food, music, and performances. Some of the largest Cinco de Mayo celebrations are in Los Angeles, San Francisco, San Jose, Sacramento, San Antonio, Phoenix, Albuquerque, El Paso, and Denver.
History
Cinco de Mayo originated from the victory battle of the Mexico army against the French army in the Battle of Puebla on May 5, 1862. It is believed it started by Mexicans living in California in the 1860's from the French rule in Mexico.
Days till Cinco de Mayo 2017
There are -21 days until the celebration/observance of Cinco de Mayo Friday May 5th, 2017.