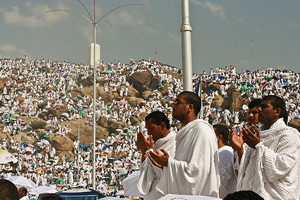 The next upcoming Day of Arafat starts on sundown of Saturday, June 15 ending at sundown on Sunday, June 16.
Celebration\ Observance
Many Muslims will give gifts to their children on this day to show generosity. Some will make the pilgrimage to Mount Arafat to complete Hajj and will cast stones (forty nine stones to be exact) at a pillar the represents the Devil along with much prayer.
History
The Prophet Mohammed on Mount Arafat gave his last sermon thus making it the final stop for Muslim pilgrims during Hajj.