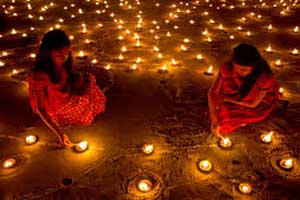 The next upcoming Diwali is on Monday October 24, 2022.
Celebration\ Observance
This is a Hindu festival that signifies the victory of light over darkness . People celebrate through fireworks, gifts, prayers, feasts and social gatherings. The main focus is lights and candles along with sparklers and other elements of light. Diwali is not a national federal holiday but is celebrated globally where ever Hindus live and is one of their most popular celebrated holidays.
History
Diwali is also called Divali or Deepavali which is the festival of lights. Its roots go back to ancient times as a festival after the summer harvest in the month of Kartika in the Hindu Calendar. There are ancient writings in the Padma Purana and Skanda Purana where lamps are mentioned with light and life. In the 7th century King Harsha in the Sanskrit play Nagananda speaks of Diwali with lamps and gifts were calendar. So the roots of the holiday go very far back in time.