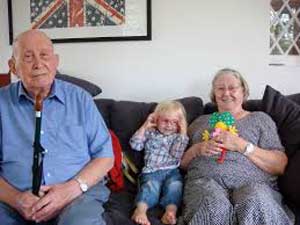 This year National Grandparents Day is celebrated/observed on Sunday September 10th, 2017. National Grandparents Day is held on the first Sunday of September after Labor Day, by honoring grandparents.
Celebration\ Observance
The day is celebrated by gift giving, cards, and family get to gethers to support and give thanks to their grandparents. Kids will often do school events like art projects centered around recognizing their grandparents. National Grandparents day is not a federal national holiday but rather an observance to bring attention, support and thanks for our Grandparents.
History
National Grandparents day was officially recognized by the US Senate and President Jimmy Carter that the founder of the day was Marian McQuade of Oak Hill West Virginia. They were inspired by her work to educate the youth in her community about seniors and their contributions. On August 3, 1978 President Carter signed the proclomation sent to him from congress to make the first Sunday in September after Labor Day to be Grandparents Day.
Days till National Grandparents Day 2017
There are 167 days until the celebration/observance of National Grandparents Day Sunday September 10th, 2017.