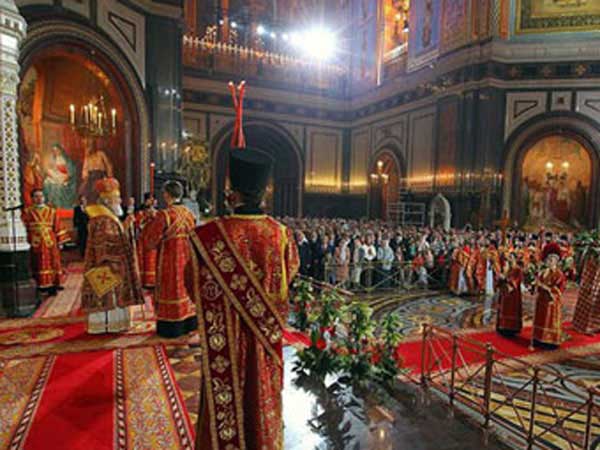 April 2018
Su
Mo
Tu
We
Th
Fr
Sa
1

April Fools Day
Sunday April 1
-2 years, -9 months, -27 days
or -1033 days

2
3
4
5
6
7
8

Orthodox Easter
Sunday April 8
-2 years, -9 months, -20 days
or -1026 days

9
10
11
12
13
14
15
16
17
18
19
20
21
22

Earth Day
Sunday April 22
-2 years, -9 months, -6 days
or -1012 days

23
24
25
26
27
28
29
30
Orthodox Easter for the year 2018 is celebrated/ observed on Sunday, April 8.
This day celebrates the resurrection of Jesus from the dead on the third day after his crucifixion on Orthodox Good Friday. In the United States the Romanian Orthodox Episcopate Church, Russian Orthodox Church, and Greek Hellenic Orthodox Church celebrate the day along with other smaller Orthodox Churches.
The Orthodox Church uses the Julian calendar to determine their holy days. Easter for the Orthodox Church will always fall sometime between April 4th and May 8th each year.
How to calculate Orthodox Easter date
The date used for Easter was determined at the Council of Nicaea in 325 A.D. It is on the Sunday following the paschal full moon, which is the full moon that falls on or after the spring equinox. Orthodox Easter will usually fall later in the year than Western Christian Easter because Orthodox Easter uses the Julian calendar and the later uses the Gregorian calendar.
Other Countries
Many countries around the world celebrate Orthodox Easter like Romania, Republic of Macedonia, Lebanon, Cyprus, Greece, Ukraine, Bulgaria, and Russia.
Days to Orthodox Easter 2018
Sunday, April 8th is day number 98 of the 2018 calendar year with -2 years, -9 months, -20 days until Orthodox Easter 2018.
Orthodox Easter
Name(s):
Orthodox Easter, Pascha
Type:
Observance, Orthodox Christian
When:
First Sunday after first full moon in Spring after Passover
Dates for Orthodox Easter
| Holiday | Date | Days to Go |
| --- | --- | --- |
| Orthodox Easter 2020 | Sunday, April 19, 2020 | -284 |
| Orthodox Easter 2021 | Sunday, May 02, 2021 | 94 |
| Orthodox Easter 2022 | Sunday, April 24, 2022 | 451 |
| Orthodox Easter 2023 | Sunday, April 16, 2023 | 808 |
| Orthodox Easter 2024 | Sunday, May 05, 2024 | 1193 |
| Orthodox Easter 2025 | Sunday, April 20, 2025 | 1543 |