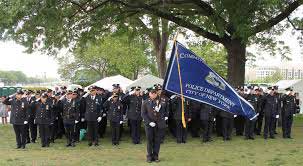 This year Peace Officers Memorial Day is celebrated/observed on Monday May 15th, 2017. Peace Officers Memorial Day is held on May 15th every year during Police Week. The day is a memorial to all peace officers who have been killed or disabled in the line of duty.
Celebration\ Observance
Across the national people pay tribute to those officers who have died or were severly injured while working to keep the public safe. Police departments will sometimes hold ceremonies for those they have lost on this day. The Fraternal Order of Police hold a national memorial service each year on this day with a wreath placed at the National Law Enforcement Officers Memorial in Washington DC. Peace Officers Memorial Day is not a national federal holiday but rather an observance for those peace officers who have lost their lives.
History
In 1961 congress asked then President John F Kennedy to designate May 15 as Peace Officers Memorial Day. October 1, 1962 the president signed the bill making the observance official as an annual day to be observed on May 15 annually.
Days till Peace Officers Memorial Day 2017
There are 49 days until the celebration/observance of Peace Officers Memorial Day Monday May 15th, 2017.