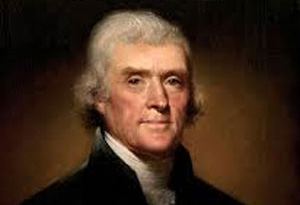 This year Thomas Jefferson Birthday is celebrated/observed on Thursday April 13th, 2017. Thomas Jefferson's birthday is held on April 13 each year. He was the third president of the United States and one of the principle authors of the Declararion of Independence.
Celebration\ Observance
Thomas Jefferson served as President of the United States from 1801 though 1809. His politcal leanings were republicanism (individualism vs large central government or federalism). He served as United States Minister to France in 1785 and later as Secretary of State 1790 to 1793 under President George Washington.
History
He was born April 13, 1743 in Shadwell, Virginia and represented Virginia in the Continental Congress. He served in many capacities thoughout his years including a leading role in the purchase of the Louisiana Territory from France in 1803. He died on July 4, 1826 in Monticello, Virginia.
Days till Thomas Jefferson Birthday 2017
There are 15 days until the celebration/observance of Thomas Jefferson Birthday Thursday April 13th, 2017.