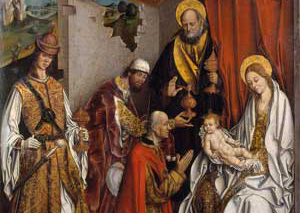 Epiphany is celebrated on January 6th each year and celebrates when the three wise men visited baby Jesus and when Saint John the Baptist baptized Jesus.
Celebration\ Observance
Many people will attend church and some will have children dress up as the three kings as a re-enactment. This holiday marks the start of the carnival season which ends the Mardi Gras.
History
Since Christmas Day was recognized as the birth of Jesus, then January 6th was seen as the day that the wise men came to visit Jesus with their three gifts. The number of wise men is uncertain but based off the number of gifts it was assumed there were three and thus the holiday came to be in order celebrate this important event in Christian faith.