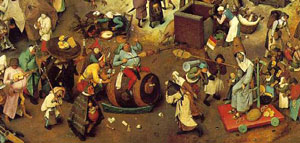 Shrove Tuesday in Bolivia is the last day before Lent which is a long fasting period. Shrove Tuesday is always the day before Ash Wednesday and celebrates with festive carnivals and lots of eating before the long fast period starting the next day.
Celebration\ Observance
People celebrate with carnivals, dancing , parades, music and lots of food and drink. The day is a national holiday with most government and business closed.
History
Shrove Tuesday is often added to another day off called Carnival day which precedes Shrove Tuesday and serves as a continuance to the festive time and eating and enjoying one self prior to the long fast of lent starting on Ash Wednesday.