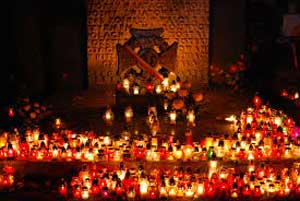 All Saint's day or also called All Hallows Day is celebrated by some on November 1st but many in the eastern church celebrate the day on first Sunday after Pentecost. The day celebrates all the Christian saints, especially saints that do not have their own holiday.
Celebration\ Observance
Christians will attend church and make offerings and some will put flowers on their dead relatives graves. This day is a national holiday with government and most business offices closed.
History
This day in history goes back to the fourth century where Greek Christians had a festival to honor saints. Back in 835 Pope Gregory IV made All Saints day a holiday.