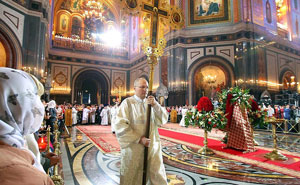 This year Orthodox Easter is celebrated/observed on Sunday April 16th, 2017. Often called Pascha or Easter Day, Orthodox Easter often falls on a Sunday later in the calendar than western churches. This day is not a public holiday and always falls on a Sunday so government and business offices that are normally open on this day will remain open.
Celebration\ Observance
This day falls on Easter Sunday with the Julian calendar that the Russian and Greek Orthodox Churches follow. Many Orthodox Christians will do a fast called the Great Lent starting 40 days prior to Easter Sunday and will attend church sessions during holy week that lasts 7 days prior to Easter Sunday.
History
Orthodox church use the Julian calendar to determine Easter versus the Western church uses the Gregorian calendar to determine Easter. Because of the use of different calendars this causes Easter Sunday for the Orthodox church to fall later in the year than the Western Church.
Days till Orthodox Easter 2017
There are 18 days until the celebration/observance of Orthodox Easter Sunday April 16th, 2017.