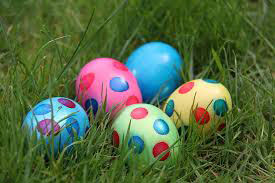 Easter Sunday falls two days after Good Friday and celebrates the resurrection of Jesus Christ.
Celebration\ Observance
Christians will attend special services that celebrate Jesus's resurrection from death. This is a day of joy and celebration. Some people will participate in Easter egg hunts and hand out candy to their children. Easter Sunday is a national holiday with government offices and most businesses closed.
History
In the Gospel of John, Mary Magdalene went to the tomb where Jesus was suppose to lay and found it empty. She was told by an angel that Jesus had risen. Christians have celebrated Christ's resurrection through Easter for hundreds and hundreds of years. The date of Easter changes each year according to the ecclesiastical approximation of the March Equinox.