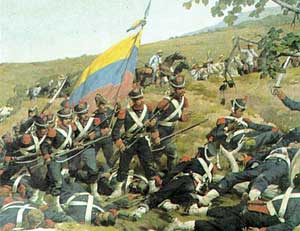 The Battle of Carabobo Day in Venezuela always falls on June 24th each year and is also referred to as Army Day. The day celebrates the victory of Venezuela over the Spanish in the Battle of Carabobo back on June 24, 1821 leading the Venezuela's independence from Spain.
Celebration\ Observance
People will celebrate by attending military parades and air shows. Also people will attend re-enactments of the battle at the actual battle site with the Ministry of Education and the Carabobo State Government having elementary/ middle schoolers attend.
History
June 24, 1821 was the date of the battle where General Simon Bolivar defeated the Spanish lead by Field Marshal Miguel de la Torre. This victory was what won Venezuelan independence from Spain