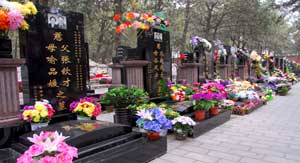 Chinese Qing Ming Jie Day celebrates the ancestors of a family tree. It occurs usually on April 5th or 4th every year.
Celebration\ Observance
Many get the day off to clean up their ancestor's grave stone and plant new flowers around it. Sometimes the family will burn imitation money for those in the afterlife and they will eat their dinner at the grave site.
History
It branches off from the native religion of worshiping ancestors to have guidance over the family. The cleaning of the grave and respects to the ancestor are all apart of the religion and tradition that has been about for centuries.