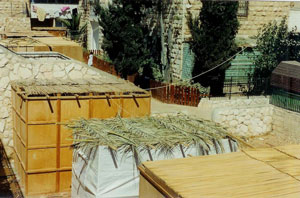 The next upcoming Sukkot starts on sundown of October 9 ending at sundown on Sunday October 16th, 2022.
Celebration\ Observance
People will often build a small space called the sukkah in which they will live in for the next seven days. Many will decorate their sukkah and hang corn and squash in them. The first day of Sukkot is the Sabbath and work is prohibited but the rest of the week days in the festival, work is allowed.
History
Sukkot relates to the exodus of the Jewish people from Egypt and their wandering through the desert for 40 years. The festival also celebrates the grape harvest.