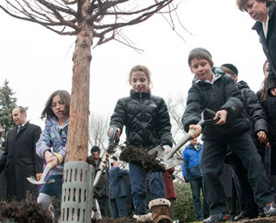 The next upcoming Tu B'Shevat starts on sundown of January 24th ending at sundown on Thursday January 25th, 2024.
Celebration\ Observance
The day celebrates "New Year for the Trees" with many practicing Jews eating a fruit on this day and some planting a tree in celebration. Many will be involved in tree planting and land restoration projects to improve the viability of the land and the resources the land provides back to the people.
History
In the early 20th century the Jewish National Fund was involved in the re-forestation of the land of Israel and in particular planted eucalyptus trees in the Hula Valley slow down the growth of malaria at the time. Today millions of Israelis will plant a tree on this day in recognition of this custom.