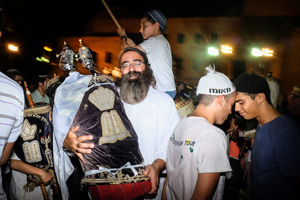 The next upcoming Simchat Torah starts on sundown of Saturday October 10th ending at sundown on Sunday October 11th, 2020.
Celebration\ Observance
This day celebrates the ending of the Torah readings for the year and people will celebrate with dancing and singing in the synagogues with the Torah scrolls taken out of the ark to be read to all attendees and celebrated with.
History
Sometime around the 16th century the tradition of taking the scrolls out on 23rd of Tishri in the evening and moving around with the scrolls and reading them became more popular with the Jewish religion.