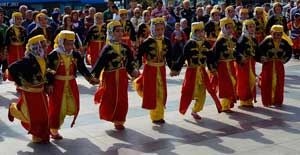 National Sovereignty and Children's day takes place on April 23rd each year in Turkey. The day commemorates the creation of the Turkish Parliament and the role of children in their society.
Celebration\ Observance
People can lay wreaths at monuments that commemorate Mustafa Kemal Ataturk who was the founder of the Turkish Republic with the largest ceremony taking place at Ataturk Mausoleum in Ankara. Ataturk it is said dedicated the Turkish Republic to the children, so on this day the children get to take seats in the Parliament and "play" government for one day.
History
The Turkish Grand National Assembly was first seated on April 23, 1920 while Turkey's war for Independence waged on. The Ottoman Empire was defeated during World War 1 and with the urging by Mustafa Kemal Ataturk the Turkish Parliament became permanent after World War 1.