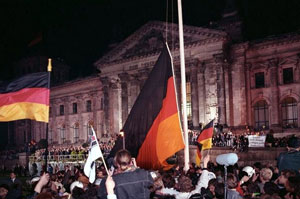 Day of German Unity always occurs on the 3rd of October. It marks the day when Federal Republic of Germany and the Democratic Republic of Germany came together under one country that has formed the Germany we know today.
Celebration\ Observance
Many Germans get the day off so big public celebrations are planned in political speeches, communal meals and most of all, fireworks. There is also some who have fun going to concerts or learning about Germany's history.
History
After World War II Germany was split into two sections: one controlled by the United Kingdom and the other by the Soviet Union. Once both parts finally protested to become independent and joined together to form Germany.