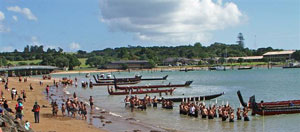 Waitangi Day falls on February 6 each year and celebrates the signing of the Treaty of Waitangi which is the founding document of New Zealand.
Celebration\ Observance
This day is a national holiday with government and businesses offices closed. People will attend a Maori cultural performance and reflect on the island's multicultural identity.
History
This day was first commemorated back in 1934 and became a national public holiday since 1974. Back in 1840, the British authorities met with the Maori Chiefs and signed the Waitangi Treaty.