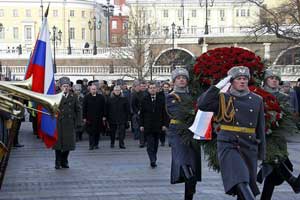 This holiday falls on February 23 each year and celebrates their military and the past veterans.
Celebration\ Observance
Because men must serve in the military, this day is looked at as men's day. Women will give small gifts or cards to their male relatives and friends. Nationally there are military parades to honor those that have served.
History
This holiday we first celebrated in 1922 as the fourth anniversary of the Red Army and between 1936 to 1990 on February 23 was Soviet Army and Navy Day. Later in 2002 the Soviet Parliament changed the name of the day to Defender of the Fatherland Day.