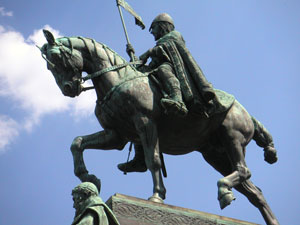 Saint Wenceslas Day in the Czech Republic is always on September 28th each year and commemorates the patrons saints death in 935.
Celebration\ Observance
People will enjoy the day of spending time with family and friend relaxing. Some will attend patriotic events while other may reflect on who Saint Wenceslas is and his contributions he made.
History
Also called Czech Statehood Day, Wenceslas was born near Prague in 907 to the Duke of Bohemia. When his father died he was only 15 years old. His main contributions were to unify Bohemia and support the Christian church. Supporting the Church made him enemies in his family and he was eventually killed by supporters of his brother Boleslav. Suffering a martyrs death he was made a saint.