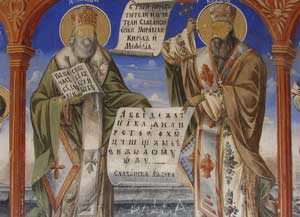 Saints Cyril and Methodius Day in Czech Republic always falls on July 5th each year and celebrates the two Byzantine brothers Saint Cyril and Saint Methodius for their spreading of the Christian faith and transcribing religious texts from Greek into Old Bulgarian.
Celebration\ Observance
People will take the day to reflect on great things these two brothers did to spread the word of Christianity. This day is a national holiday with most government and business offices closed.
History
Back in 860 the two brothers went to spread the Christian faith to the Ukraine, Bulgaria and Slavic lands area. They also translated Greek religious texts into Old Bulgarian and are recognized as the originators of the Cyrillic alphabet named after Cyril.