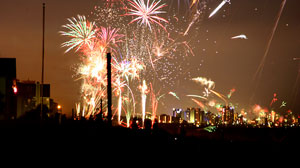 Independence Day in Mexico is celebrated September 16 annually each year. The day celebrates Mexico's war of independence against Spain on September 16, 1810.
Celebration\ Observance
In the Mexican capital of Mexico City each year on this day the President rings Hidalgo's bell and states his words at 11pm on September 15. On the next day September 16, Mexico city has a military parade to honor the day. Independence Day is a national holiday with government offices and businesses closed.
History
The holiday specifically commemorates Father Hidalgo proclamation on September 16th, 1810 to end the Spanish rule in Mexico by encouraging rebellion. After 10 years of war Mexico finally got its independence from Spain on September 27th, 1821.