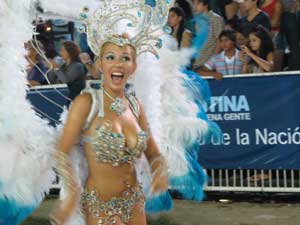 The Argentina Carnival occurs every Monday and Tuesday before Ash Wednesday, marking the beginning of Lent. This carnival takes up a span of two whole days with the Carnival de Lunes and the Carnival de Martes.
Celebration\ Observance
This national holiday calls people to dance, parade and play games to experience a heck of a good time. The parade is a huge part of the festivities and many floats compete for first place in the procession.
History
Just like the Brazilian carnivals, Argentina had its first carnival introduced to them by the Spanish settlers way back in the 15th to 17th centuries. Taking its influence from the very popular Italian carnivals, the Argentine Carnival spread into a national holiday and a huge tourist attraction.