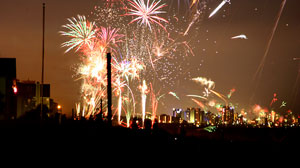 Independence Day always falls on July 9th to celebrate Argentina's hard won independence from Spain. The exact day that independence was gained was on July 9, 1816.
Celebration\ Observance
During the Argentine War of Independence, General Belgrano saw that the enemy (Spain) had almost the exact same colors as the old Argentinean flag. Seeing this as a problem, he re-designed the flag with the familiar blue and white stripes with the sun at the center.
History
Once the country formed its own local government on May 25, 1810 the thoughts of becoming independent started to catch fire and set ablaze for freedom around the country. When the British tried to invade Buenos Aires on May 28, 1810, Argentina answered with a swift victory. This new ability to keep out foreign forces gave the country the confidence boost into fighting for independence with Spain and eventually winning.