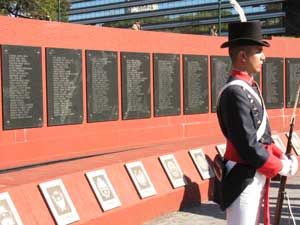 Malvinas day is a tribute to the brave soldiers who fought in the Falklands/Malvinas War. It occurs every April 2nd of the year.
Celebration\ Observance
It is celebrated in observance and remembrance of those who died and what they were fighting for. To have everyone remember all schools and most businesses are not in session, but instead have a day off.
History
The history of such a day began when the British and Argentines fought for 74 days over the Falklands Islands/Malvinas Islands. In that time 255 British and 649 Argentine soldiers were killed. In 2001 this holiday came to be in seeing the importance of those lost lives.