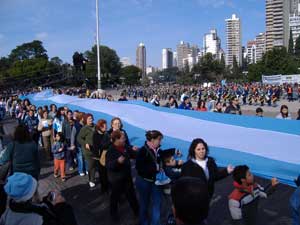 National Flag Day commemorates the death of Manuel Belgrano who created Argentina's current flag. It used to be the 3rd Monday of June but since 2011 it has been changed to June 20th.
Celebration\ Observance
This is a national holiday in Argentina where most workers and students get the day off to be proud of their country and flag. Most people will observe the flag in front of most government buildings and just remember its history to celebrate this day.
History
During the Argentine War of Independence, General Belgrano saw that the enemy (Spain) had almost the exact same colors as the old Argentinean flag. Seeing this as a problem, he re-designed the flag with the familiar blue and white stripes with the sun at the center.