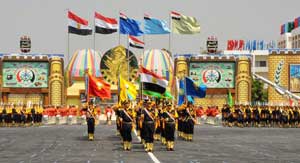 Armed Forces Day in Egypt falls on October 6 each year and celebrates the October War in 1973 when Egyptian and Syrian armies launched a joint attack to retake their territories.
Celebration\ Observance
This day is to remind the people of the bravery and sacrifices made by the military to recapture their land that taken by Israel. People will attend military parades, firework shows and other patriotic celebrations.
History
October 6, 1973 started the October War that lasted 19 days in total. Egypt and Syria both launched a surprise attack on Israel occupied territory and both had initial gains but later Israel forces came back and won the war on October 25, 1973.