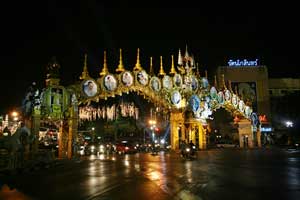 King Bhumibol's Birthday in Thailand falls on December 5th each year unless the day is a weekend day then it will be moved to Monday. The day celebrates the birthday of the late King Bhumibol.
Celebration\ Observance
Buildings and streets will be decorated with flags and portraits of the late King in celebration. The late King was born on a Monday with the color of Monday as yellow, so the streets will be decorated with yellow marigolds as well.
History
The late King of Thailand ruled from June 9, 1946 to October 13th 2016 making him the longest ruling head of state. King Bhumibol Adulyadej was crowned Rama IX of Thailand in 1950 making him the ninth king of the Chakri dynasty the longest dynasty serving Thailand in its entire history.