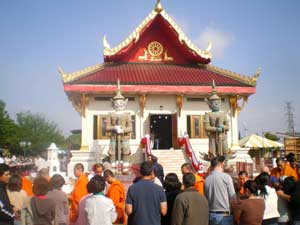 Songkran is celebrated each year from April 13th to April 15th celebrating Thailand's traditional New Years Day.
Celebration\ Observance
Tradition for this time is to throw water stemming from the cleaning of Buddha images and using this water to soak other people is a way of paying respects and or good fortune. Today many people will get in water fights as April is a very hot time of the year. Some people will cover themselves with chalk as used by monks. This time is also used as a time to do Spring cleaning.
History
Songkran in Sanskrit means passage from one sign of the Zodiac to another but more specifically relates to a time when the sun enters the sign of Aries the Ram which falls at a similar time as the Vernal Equinox.