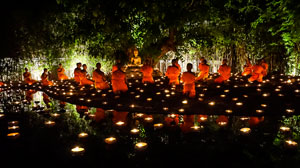 Visakha Bucha Day takes place on the full moon day of the Indian lunar month of Visakha (Visakha). This is probably the most important days on the Buddhist calendar. The day celebrates the birth, enlightenment, and passing away of Buddha.
Celebration\ Observance
Buddhists on this day will go to the temple, bring flowers and offerings as well as meditate and listen to sermons. In the evenings there is a candle light procession with followers walking three times around the temple representing the triple jewel of Buddhism, one the Buddha, two his teachings, three the monkhood.
History
In Thailand this day is a national holiday with government offices and most businesses closed. This holiday/observance has been around for very long time.