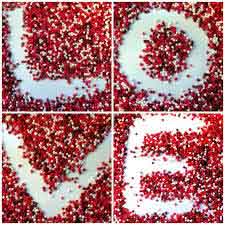 The next upcoming Valentines Day is on Wednesday February 14th, 2024.
Celebration\ Observance
Most people celebrate Valentine's Day by sending their loved one flowers, cards known as valentines, sweets, and other gifts such as jewelry. Romantic dinners and champagne are other ways to celebrate. Anonymous gifts might be calendar to express feelings for someone without making it known. Decorations are made of hearts, red and pink flowers such as red roses, chocolates, and Cupid. Cupid is a winged figure with a bow and arrow. According to mythology, he uses his arrow to strike people in the heart so they will fall in love.
History
Valentine's Day was named after Valentinus,early Christian saints who were martyrs. Two Valentines, Valentine of Rome and Valentine of Terni are honored on February 14. The Valentine of Rome was a Roman priest martyred AD 496. Valentine of Terni was a bishop of Interamna on AD 197 and martyred under Emperor Aurelian. St. Valentine's Day is celebrated in various Christian denominations. There were no romantic connotations on this day until Chaucer's poetry about "Valentines" in the 14th century. Earlier times were emphasized on sacrifice not romance.