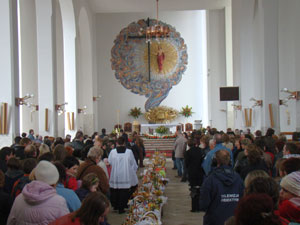 The next upcoming Holy Saturday is on Saturday April 11th, 2020. Holy Saturday is the seventh day of Holy week (last day of Lent ), a Christian observance which falls after Good Friday each year and before Easter Sunday. The day commemorates Jesus Christ laying in his tomb after his crucifixion from the prior day. Holy Saturday or sometimes referred to as Easter Eve or Black Saturday is not a public holiday so businesses and other offices that are open on Saturday will be open.
Celebration\ Observance
All Masses for the day are limited to Baptism, Penance, and anointing of the sick to provide salvation, with many churches stripping the chancel bare and other churches covering the alter in black. Holy Saturday lasts till 6pm and then Easter Vigil is celebrated in the churches with the lighting of the paschal candle bringing in the start of the Easter celebrations.
History
Holy Saturday has many names including Great Sabbath, Black Saturday, and Easter Eve. This day marks the last day of Holy week and the end of the roughly six week period of Lent that started on Ash Wednesday.