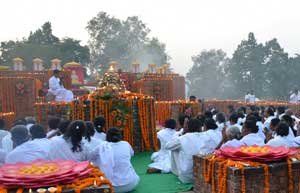 Buddha Purnima, also known as Vesak, is a Buddhist holiday celebrating Gautama Buddha's life. It is observed on the day of the full moon in May.
Celebration\ Observance
This day is spent in the Buddhist temples where monks speak and cite verses. A Buddha baby statue is placed in a basin of water with flowers. Pouring water over the statue symbolizes a new and pure beginning. It is a gazetted holiday - government offices, banks, and post offices are closed.
History
Vesak was first celebrated in 1950 as Buddha's birthday from the World Fellowship of Buddhists conference. Buddha was a spiritual teacher of influence in India in the past as well as the present.