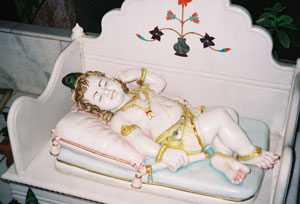 Janmashtami is a Hindu religious festival, celebrating the birthday of Lord Krishna. The date falls in the month of Bhadon on the 8th day of the dark fortnight in the Hindu calendar which is July, August, or September.
Celebration\ Observance
People in India celebrate this day with song, dance, and cradle rocking the baby Sri Krishna. Homes and temples are decorated and illuminated in the areas where Sri Krishna's life was spent- Mathura and Vrindavan. Government and businesses are closed for this gazetted holiday.
History
Sri Krishna was born about 5200 years ago. His birth allowed the evilness of demons to be free from the Earth. Sri Krishna is a powerful reincarnation of the Lord Vishnu.