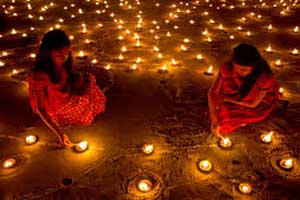 Diwali, also known as Deepavali, is a light festival. Many religions observe this 5 day celebration. It occurs in the Hindu month of Kartika (October/November) on the 15th day.
Celebration\ Observance
Hinduism, Buddhism, Sikhism, and Jainism all observe some form of Diwali. It is both a physical and spiritual lighting festival. Lighting may involve the home and workplace. This gazetted holiday in India allows government and businesses to close.
History
The Diwali lights symbolizes the triumph of righteousness and lightening of spiritual darkness. In the Hindu calendar, it is a popular festival.