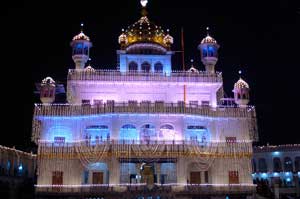 Guru Nanak Jayanti, also known as Guru Nanak Gurpurab, celebrates the first Guru Nanak, the Sikh Guru. In Sikhism, this is a significant sacred festival. It falls in the month of November with dates depending on the Indian calendar.
Celebration\ Observance
The day is spent singing hymns, processions in the streets with banners and decorated flags and flowers as part of the passage. It is a gazetted holiday in India- all businesses and government offices are closed.
History
Guru Nanak was born on April 15, 1469 and is the founder of Sikhism. His birth is celebrated on the full moon of Kartik month on Kartik Poornima. Although a Sikh holiday, Hindus and other followers of Guru Nanak also take part in the festival.