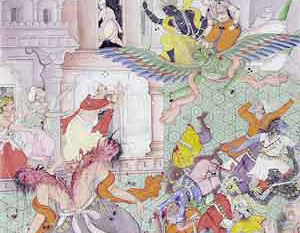 Naraka Chaturdasi, also known as Naraka Nivaran Chaturdashi, occurs on the second day of the five days of Diwali. It is celebrated on the 14th day of the Kartik month (October/November).
Celebration\ Observance
It is a Hindu festival celebrated with religious rituals and festivities. Religious rituals include Kali Choudas where rice is pounded into delicacies called Pova or Poha. As a restricted holiday, government and businesses stay open.
History
Hindu mythology states that Narakasura, the demon, was killed by Krishna and Kali on this day. Also called Kali Chaudas, it is a time to abolish evil and laziness and show light in one's life.