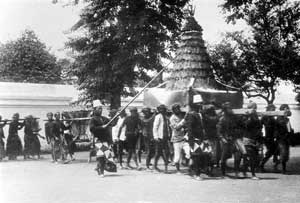 Milad un-Nabi Id-e-Milad celebrates the Prophet Mohammad's birthday. It is a Muslim observance on the 12th of Rabi' al-awwal on the Islamic calendar for the Sunni and the 17th of Rabi' al-awwal for the Shi'a.
Celebration\ Observance
It is a time to observe and pay tribute to the Prophet Muhammad's birth through gatherings of communal meals, prayer, parades, and exhibitions. Government offices, banks, and post offices are closed. Businesses can chose to remain open or closed this day.
History
This festival celebrates Mohammads birth and teachings.