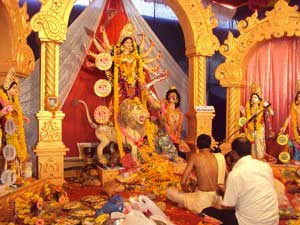 Maha Ashtami is part of the Durga Puja festival as the second day and one the most important days of the celebration. Also known as Maha Durgashtami, the festival occurs in the Hindu month of Aashin or Aswhina (September/October).
Celebration\ Observance
Like the holy day (Maha Saptami) of Durga Puji, people frolic in fun activities. Being the most important day of the festival, Astra Puji is performed. This is the worshipping of Goddess Durga's weapons she used to kill Mahishasur. It is a restricted holiday- government and businesses remain open.
History
The importance of Maha Ashtami comes from the victory of Goddess Durga over Mahishasur. Mantras, prayers, and flowers to Durga as well as animal sacrifices (currently using pumpkins, cucumbers, and bananas in place of animals) are performed. The devil, Mahalakshmi, is worshipped as wealth, good luck, sustenance, and prosperity.